Online Donations
We want you to know that PayPal keeps only 2.2% of the donation (plus thirty cents for each transaction) to help us do these transactions with you. For example, a donation of $100 would mean that our office receives $97.50.
While it isn't free, that is still close to the price of mailing it in to us, if you consider the cost of the stamp, envelope and checkblank, plus your time! Using PayPal is fast and easy for both you and us, but we will gladly welcome payments of any sort if you want to mail it to us or drop it off in person.
If you would like a receipt from us for tax purposes, please type your name and address into the NOTE section of your payment so that we can mail one back to you. Otherwise, you can print out a copy of your PayPal transaction as well.
If you would prefer to not use PayPal, feel free to send a check payable to "Life Connections" to:
Life Connections
P.O. Box 822
Alexandria, MN 56308
Make Donation Through PayPal
Donation Information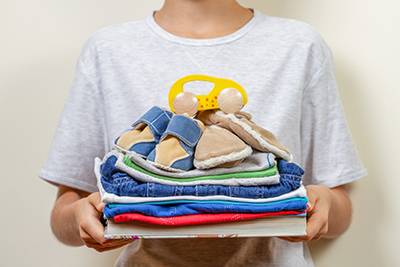 Life Connections is always in need of the following things:
Baby Diapers, Pull-Ups and Swim Diapers – no adult diapers please –(either already opened or new packages are both great!)
New unopened Wipes, Rash Cream, Shampoo, and Body Wash (but no powder please)
Unopened Formula and Baby Food that has not expired yet
Used Bottles, Bibs, and Burp Cloths
But only new Nipples, Pacifiers, Sippy Cups, and Utensils
Baby Bedding (new or used): crib sheets, blankets, mattress protectors (but no crib bumpers please), monitors, and nightlights
Baby safety items like outlet plugs, door locks, drawer locks and toilet locks
Used or New Maternity clothing & outerwear, but only NEW Underwear, Bras & Belly Support Bands
Baby clothing size Preemie to 5 (any of this can be either new or gently used)
but we are most often short on socks, sleepers, onesies, shoes, boots, winter hats, mittens, gloves & coats
Baby slings, diaper holders, bottle warmers, wipes warmers, educational materials, hair decorations for babies, and very gently used toys and children's books (but no used stuff animals).
And of course, we can always use cash gifts to purchase more of these things.
Unfortunately, we cannot accept (due to both liability and space constraints) furniture, high chairs, baby bathtubs, swings, cribs or used carseats.
Please make an appt or call ahead to see if we are open.  Donations are tax deductible as we are a 501c3.
If you would like a receipt, please leave your name and address with the items so that we can get one mailed back to you.
Thank you so much for your understanding, your generosity and for thinking of us!